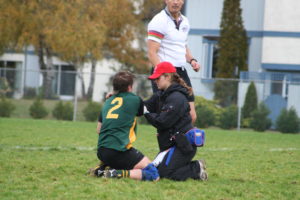 Impact Sports Therapy
Certified Athletic Therapists are highly trained professionals specializing in the care of active individuals. Athletic Therapists provide a continuum of care, including injury prevention, immediate care, injury assessment and rehabilitation.
Athletic Therapists specialize in sport/work specific rehabilitation, so that athletes/workers can return to their activities as quickly and as safely as possible.
Who can benefit from Athletic Therapy?
Elite, Amateur, and Recreational Athletes
Children, Adults, Seniors
Individuals with:
Acute/Chronic Injuries
Occupational Injuries
Postural and Gait Concerns
Post Surgical Rehabilitation needs
General body aches and pains
What services do we offer?
Acute/Chronic Injury Assessment
Injury Treatment and Rehabilitation
Injury Prevention Programs
Physical Conditioning and Re Conditioning Programs
Postural and Gait analysis
Sports Performance
What sets us apart from the rest?
1 on 1 professional care during each visit
Modern and innovative therapeutic techniques
Sport Specific rehabilitation
Individualized home programs
A positive and motivating atmosphere
Access to large field for sport specific activities
Full fitness center for progressing rehabilitative exercise to strength training
What modalities do we use?
Electrical Muscle Stimulation (EMS)
Transcutaneous Electrical Nerve Stimulation (TENS)
Therapeutic and Deep Tissue Massage
Trigger Point Release
Muscle Energy Techniques
Soft Tissue Release
Joint Mobilization
Hydrotherapy
Thermotherapy/Cryotherapy
A typical Athletic Therapy session, depending on your concern, will include improving your range of motion, proprioception and balance, increasing strength, decreasing pain, &  improving functional movement patterns specific to your work or play.
You will also receive exercises and routines that you can do at home to speed your healing.
Athletic Therapy is covered by many Insurance companies, as well as many Provincial, and National sporting organizations.  Please refer to their website to ensure you follow appropriate protocols to receive full coverage.
For more information on Athletic Therapy, please visit the Canadian Athletic Therapists Association website at www.athletictherapy.org , or www.aata.ab.ca